Podcast: Play in new window | Download
Welcome to Croatia For Kids with Karyn from CASE OF ADVENTURE!
Download your FREE 25 page Croatia Printable Pack below with tons of fun activities for you to do!
Read or listen to Croatia for Kids, look at the photos, watch the videos and download the Croatia printable pack. Click the play button in the player above (or listen in on iTunes or your favorite podcast app).
Croatia for Kids
Today we are going to be talking about Croatia – the country with stunning beaches and spectacular waterfalls, where the historical beauty of the past is reflected in the modern lives of its present day citizens.
Remember to download your Croatia printable pack with some fun activities for you to do.
Croatia is..
located in Central and Southeast Europe, bordering Hungary to the northeast, Serbia to the east, Bosnia and Herzegovina to the southeast, Montenegro to the southeast, the Adriatic Sea to the southwest and Slovenia to the northwest.
About 4 million people live in Croatia and its capital city is Zagreb.
Croatia in Croatian is called Hrvatska.
Zagreb has a charm all its own and has more museums than any other city in the world, causing it to be named, "The city of museums".
The city is bursting at the seams with fabulous cafes – all of which serve the fabulous Croatian coffee. Croatians take their coffee drinking very seriously indeed!
Croatia is hot, the hottest summer months being July and August, its on of Europe's sunniest spots.
There are picturesque pebbled beaches, lapped by crystal clear water and  incredible national parks.
Croatia has eight national parks, including the Plitvice (plitveetza) Lakes and Krka, both of which are famous for their stunning lakes and waterfalls. As you stroll along the wooden boardwalks among the  Plitvice lakes and see the many beautiful waterfalls, huge leafy green trees shade you from the sparkling sun, be careful as you can easily step off the boardwalk into the water!
Its really cool how some of the mountains are very near beaches! The Biokovo mountain range contains one of the highest peaks in Croatia, but also lies just a few miles from the sea. It's a stunning area, scattered with wildflowers and butterflies, sweet-smelling pine trees and limestone boulders. And after a slow climb up the mountain, you can head back down for a refreshing dip in the sea and some delicious gelato ice cream.
THE CAPITAL CITY
The biggest cities in Croatia are Zagreb, Split, and Rijeka.
Zagreb is 900 years old.
Before we move on, lets talk some more about the capital city of Zagreb. There lively street markets and lots of green open spaces, blue street trams zooming down the streets and beautiful architecture. The market in the main square sells cheeses, sausages, delicious pastries and just about everything else.
Zagreb cathedral is built in gothic style and dominates the city skyline.
St Marks Church has the most colorful roof ever. The tiles are designed in the pattern of a medieval coats of arms and the emblem of Zagreb.
There are lots of places where you can sample the delicious truffle dishes.
Croatia's largest exporter of Istrian truffles is Zigante Tartufi. In 1999 the company's owner Giancarlo Zigante, along with his dog Diana, found the world's largest truffle in Istria, weighing 1.31kg and making it into the Guinness Book of World Records.
You can go up Zagreb 360 for amazing views of the city. You take the elevator to the 16th floor of the really tall building to get amazing views of the old town. Lots of red brown roofs, tall spires, blue sky and sunlight reflecting off the roofs, mountains in the distance – its beautiful.
One of the most famous and popular sights in Croatia is in a city called Split.
The remains of the Roman Emperor Diocletian's Palace, is now the buzzing heart of the city. Among the ancient columns, temples, walls and underground cellars that once made up the Roman emperor's home, you'll find dozens of hidden bars, restaurants and shops.
There is a sphinx in Split. It was brought from Egypt for emperor Diocletian and it is more than 4,000 years old!
The Island of Hvar and its surrounds  – You can take a ferry from Hvar to Split
THE PULA ARENA
The Pula Arena is the name of the amphitheatre located in Pula, the port city of Pula is  in Istria Croatia. The Arena is the only remaining Roman amphitheatre to have four side towers and with all three Roman architectural orders entirely preserved.
The Croatian capital's Museum of Contemporary Art is also among the best in the world.
Croatia hosts numerous open-air cultural festivals during the summer, the best known being the Dubrovnik Summer Festival
Zadar, in North Dalmatia, which contains a lovely old town and is home to several Romanesque churches, plus the quirky Sea Organ, which produces music powered by the waves; and Varazdin, with its 18th-century Baroque architecture and an annual Baroque music festival.
On its surface, the organ looks like large marble steps leading into the Adriatic Sea. … Each set of steps holds five organ pipes each and is tuned to a different musical chord. As waves and wind push air through the channels, a song pours through theorgan pipes and out onto the steps above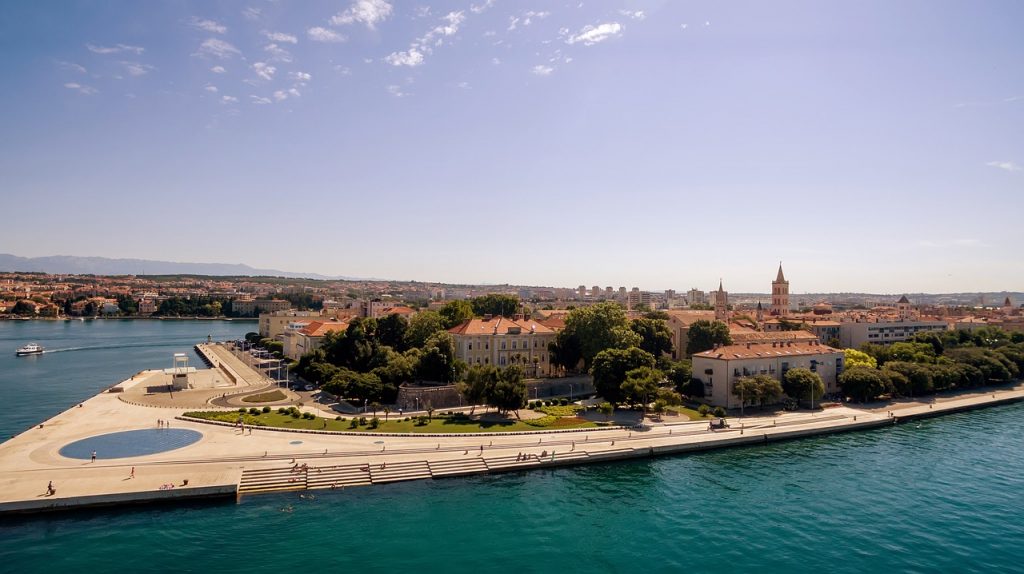 THE LANGUAGE
The official language of Croatia is Croatian, but Serbian, Italian, and Hungarian are also spoken.
Croatian is an official language in Croatia, Bosnia and Herzegovina, and parts of Austria, Italy, Serbia, and Romania.
Counting to ten in Croatian: Jedan (1), dva (2), tri (3), cetiri (4), pet (5), sest (6), sedam (7), osam(8), devet (9), deset (10).
THE CURRENCY AND FLAG
The currency of Croatia is the Kuna. One Kuna equals 6.28 dollars. Croatia has been a member of the EU since 2013 but kept its currency, the Kuna.
The national anthem of Croatia is Lijepa nasa domovino (Our beautiful homeland).
The Croatian flag combines the colors of the flags of the Kingdom of Croatia (red and white), the Kingdom of Slavonia (white and blue) and the Kingdom of Dalmatia (red and blue).
WORLD WAR II  AND THE CROATIAN WAR FOR INDEPENDENCE
Croatia used to be part of Yugoslavia. In 1941, in World War II, German forces invaded Yugoslavia. The resistance fighters were led by Josip Broz Tito, a Croatian. Eventually, in 1944, the resistance fighters, helped by the Soviets, broke through the German lines and forced them to retreat across the border of Yugoslavia. Sadly, there are still some undiscovered buried land mines in Croatia from WWII.
Croatia declared independence from Yugoslavia in 1991. But the Communist Serbian president, Slobodan Milosevic, wanted Croatia to still be controlled by Serbia. Then, from 1991 to 1995, the devastating Croatian war for independence was fought. Eventually, Croatia won. Today, there is still damage to be seen from the war but the people are rebuilding.
Independence Day in Croatia is the 8th of October.
A German Second World War ship can be spotted below the surface of the water in Zavratnica Bay, near the Croatian port of Jablanac.
INTERESTING AND UNUSUAL FACTS
The first torpedo was constructed by Ivan Lupis Vukic from Rijeka, Croatia.
Football is the most popular sport in Croatia.
Croatia has 1246 islands!
Two places on the moon are named after Croatians. They were scientists J. R. Boskovic and Mohorovicic.
In 1906, a Croatian man named Slavoljub Penkala Invented a mechanical pencil. Today we call them 'pens'.
The columns of the White House in Washington D. C. are made from White stone mined on the Isle of Brac in Croatia.
Croatians can vote at the age of sixteen if they are employed. If not, they must wait
until they are eighteen.
If you spread out a map of the world the town of Ludbreg in Croatia would be right
in the centre.
The island of Biševo in Croatia has only 13 residents.
The biggest necktie in the world was 808 metres long, and was displayed in Croatia in 2003. It took five days to complete and was tied around the Pula Arena.
Croatia is home to the world's smallest town, called "Hum".
THE ANIMALS
Keep your eyes peeled off the west coast of Istria and you might just see a pod of dolphins.
Many rare animals can be found in Croatia – for example, the Mediterranean Monk Seal.
The national animal of Croatia is the pine marten.
The main predators in Croatia are wolves, lynxes, and brown bears.
Dalmatians were named after Dalmatia, a region of Croatia.
TRADITIONAL DRESS
There isn't just one traditional dress in croatia: each region has its own. One common one is white dresses for the women, with colorful fringed shawls, long striped socks and flowers in their hair. The dresses have blue embroidered lace on the skirts. For the men,  baggy white pants, long untucked white shirts and black vests and hats, as well as red, blue and white bands around their waists and hats.
CROATIAN CUISINE
Croatian food is influenced by Turkey, Hungary, and Italy. Pasta is one of the most popular food items. Istarski fuzi is a type of pasta usually served with stew.
Rozata is a Croatian custard pudding similar to Crème Caramel.
Zagorski Štrukli is a traditional Croatian dish consisting of dough and various fillings that can be either cooked or baked.
Pizza is found almost everywhere in Croatia. Some pizzas are as good as the ones you will find in Naples.
In Croatia, breakfast is light and people usually eat bread and jam and drink tea or coffee. Lunch is the main meal of the day. It usually has soup, meat with vegetables, and a salad. Dinner is usually leftovers from lunch.
Dalmatian food, found along Dalmatian coast, and on the islands, is based heavily on fish, greens, olive oil, and seasonings like garlic, rosemary, parsley, etc. Dalmatian cuisine is typical Mediterranean cuisine.
Zagreb food, on the other hand, has many similarity with central European countries. Typical Zagreb food includes meat dishes, while side dishes usually comprise of potatoes, other root veggies, and cabbage.
Cevapcici with ajvar in a grilled roll
Slavonians love their pork, and many dishes in Slavonia are simply based on pork meat. Red paprika is the main condiment in Slavonia.
Croatians have always believed in three meals a day, with lunch being the main daily meal. This, unfortunately, has changed in last years, as many people work 9-5, and simply aren't home for lunchtime. However, lunches are still big family affair on weekends.
Croatian Meze Lunch, consisting of Local Feta Cheese, Humus, Tuna Salad, Pickled Mackerel, Parma Ham, Marinated Eggplant and Onion Relish
Tomato Salami is definitely a speciality – there are many different versions for you to try
Also, you are very likely to see many a pig roasting on a spit along the side of the road or outside a restaurant.
MUSICAL INSTRUMENTS
The dangubica (or Bisernica) is a small Croatian stringed instrument, having two single or double strings and a pear-shaped body.
The frula is a Serbian musical instrument similar to a medium-sized flute.
A gaida is a bagpipe from southeastern europe. It has a single drone and the bag is usually made of sheep- or goat-skin.
The lijerica is a croatian musical instrument which has three strings, and is played with a bow.
One of the most famous Croatian composers was Franz von Suppé.
Croatia is the birthplace of Marco Polo, or so locals claim.
The Ancient City Walls or Dubrovnik are amazing! You can walk on them all the way around the old city
A MISSIONARY IN CROATIA
To end off, I am going to quote from an article called out-of-the-rubble-in-croatia from advancingnativemissions.com
At 31, Damir Spoljaric could hardly wait to marry. He had spent most of his 20s contemplating celibacy, as he was fully engrossed in the work of the Lord. But the Lord gave him peace about marrying, and soon afterwards he excitedly proposed to his longtime friend Melita under a bridge in Croatia on June 18, 1995.
The wedding date was set for just a few weeks later, on August 5. His country was still in the midst of a war of independence (from Yugoslavia). But even in wartime, people still have to work, eat, steep…and marry. Or so he thought.
In the wee hours of the morning on his wedding day, Damir was rudely awakened by a huge explosion. A thousand kilograms of TNT had just exploded a few miles from his home. What was going on? After a short while, another huge explosion—this time, even closer. Lord, what's happening? Only later would Damir learn that the Croatian army had just launched "Operation Storm," a large-scale military operation to recapture areas held by enemy Serbian forces.
With his thin bedroom walls rattling like crazy, Damir realized that any moment could be his last. Lord, maybe it's not Your will for me to get married after all, Damir mused wryly. His relatives and friends began calling in to inform him that they were fleeing the city and could not attend his wedding. "I understand," he joked nervously, "that you're supposed to attend a wedding, not a funeral!"
But even though most of the guests had fled and the city had turned into a ghost town, Damir and Melita decided to brave the bomb attacks and get married anyway. Understandably, the minister performed a quick ceremony. The young couple then drove off hurriedly for their honeymoon, dodging air raids and artillery shelling, and all the while praying fervently behind the wheel!
For Damir was determined that nothing—not even bombs falling from the sky—would ever stop him from praying and believing that out of the rubble, God would still bring forth a miracle of love and deliverance.
And God proved him right! Not only did they manage to enjoy their wedding and honeymoon admidst the warfare, but they were able to minister to many war refugees who were suffering and share with them the Gospel of Jesus Christ. "